Best Liverpool Managers Ever Based On Winning Percentage
The best Liverpool managers ever? Best Liverpool managers ever based on winning percentage? Which Liverpool managers have the best win percentage ever? Liverpool FC former managers? Liverpool FC football managers? Here we look at the best Liverpool managers ever based on winning percentage.
Best Liverpool Managers Ever Based On Stats
Since 1892, a total of 21 managers have managed Liverpool. Out of these 21 managers, 13 have won trophies with the club. There are several ways to call a football manager a good football manager. One way is trophies. Another way to identify a good football manager is his winning percentage. Now, we at Silly Season will reveal Liverpool's best managers based on winning percentage
Best Liverpool Managers Ever
Best Liverpool managers ever? To clarify, this table only includes managers who have been in charge for at least 20 games.
Manager

From

Until

Games Managed

W

D

L

Win%

William Edward Barclay and
1892
1896
127
77
20
30
60.63
John McKenna
Jurgen Klopp
2015
Present
425
254
96
75

59.76

Kenny Dalglish
1985
1991
381
222
95
64
58.26
2011
2012
Bob Paisley
1974
1983
535
308
131
96
57.57
Rafael Benitez
2004
2010
350
194
77
79
55.43
Joe Fagan
1983
1985
131
71
36
24
54.2
Bill Shankly
1959
1974
783
407
198
178
51.98
Gerard Houllier
1998
2004
325
167
79
79
51.38
Roy Evans
1994
1998
244
124
62
58
50.82
Phil Taylor
1956
1959
150
76
32
42
50.67
In addition to these 10, another two managers have had a winning percentage of 50% or more during their stint at Liverpool. They are David Ashworth and Brendan Rodgers
Top 10 Liverpool Managers Ever Based On Winning Percentage
Liverpool are back to winning ways once again after grabbing their sixth Champions League trophy in 2019. Let us take a look at some of the most successful men who led this great football club back in the day –
10. Phil Taylor- win percentage of 50.67
Phil Taylor was a former Liverpool player who made more than 300 appearances for the club during his 18-year stint at the club. He retired in 1954 and two years later, came back to Liverpool as their manager.
Taylor was in charge of Liverpool till 1959, managing 150 games for the club. Out of these 150 games, Liverpool won 76 while losing 42. The other 32 matches ended in a draw. Liverpool did not win any silverware under Taylor but finished in the top four of the league in every season he managed. The club also reached the FA Cup quarter-finals in the 1957-58 season.
Eventually, Liverpool was the only club Phil Taylor managed. He passed away in 2012, aged 95.
9. Roy Evans- win percentage of 50.82
Roy Evans was also a former Liverpool who spent 9 years at the club but made very few appearances as a player. Bill Shankly who managed Evans at Liverpool, advised him to become a manager. Following his retirement in 1974, Evans became a member of Shankly's coaching staff. He continued to be a part of Liverpool's coaching staff under Bob Paisley, Joe Fagan,Kenny Dalglish, Ronnie Moran and Graeme Souness before finally becoming the manager in 1994.
Evans managed Liverpool till 1998 and was in-charge of the club for 244 matches. Liverpool 124 of these matches while losing 58. The other 62 matches ended in a draw. Liverpool won only one trophy under Evans and that was the League Cup in the 1994-95 season. The Reds also reached the final of the 1995-96 FA Cup where they lost to Manchester United courtesy of a late Eric Cantona winner.
8. Gerard Houllier- win percentage of 51.38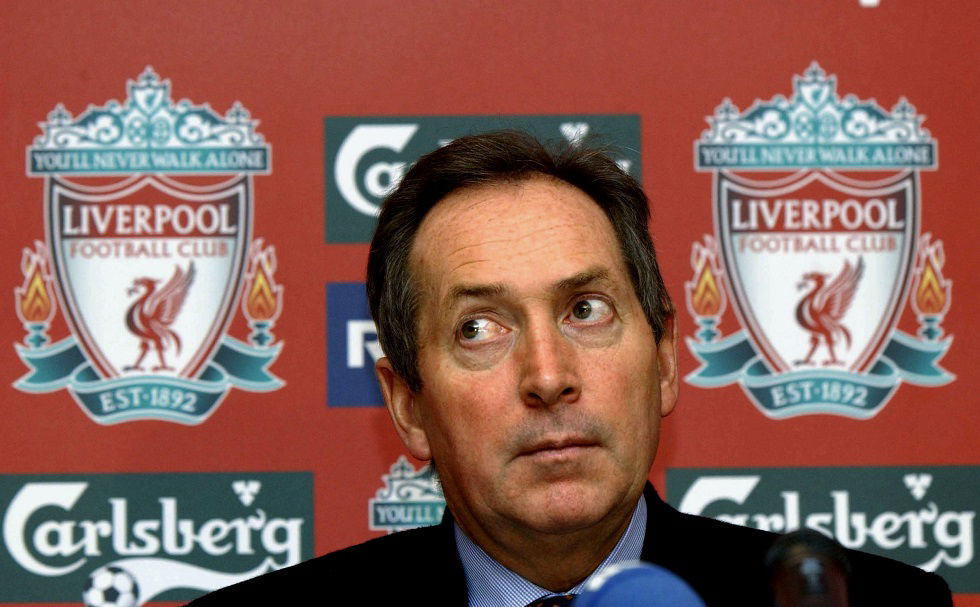 Gerard Houllier became Liverpool manager in 1998 when Roy Evans was also the manager. Liverpool decided to use the concept of two managers at the club for the first time in more than a century. However, the joint-management thing did not work out as Evans resigned in 1998, leaving Houllier solely in-charge of Liverpool.
Houllier managed Liverpool till 2004, managing 325 matches for the club. Under Houllier, Liverpool 167 matches while losing and drawing 79 matches each. Liverpool enjoyed it's finest period in the 21st century under Houllier, winning 6 trophies. This included the treble of League Cup, FA Cup and the UEFA Cup in the 2000-01 season. Houllier also guided Liverpool to the UEFA Super Cup in 2001.
Sadly, Liverpool could not win the Premier League under Houllier. The closest they came to winning the league was in the 2001-02 season when they ended 2nd in the league, 7 points behind Arsenal.
Gerard Houllier left Liverpool in 2004. Houllier's spell at Liverpool was enough to receive the Order of the British Empire.
7. Bill Shankly- win percentage of 51.98
Widely known as the paving stone on which Liverpool's successes were laid, many will be surprised to see Bill Shankly in 7th position here. However, that's how it is.
After short managerial spells at Carlisle United, Grimsby Town, Workington and Huddersfield Town, Shankly joined Liverpool as the club's manager in 1959.
From 1959 to 1974, Shankly managed 783 matches for Liverpool, a record which is yet to be bettered. Under Shankly, Liverpool won 407 matches while losing 178. The other 198 matches ended in a draw. Under Shankly's tutelage, Liverpool won 9 trophies. This included three top-flight league titles and Liverpool's first European trophy, the 1972-73 UEFA Cup.
Shankly left Liverpool in 1974 and this was the last club he managed. Bill Shankly passed away in 1981, aged 69.
6. Joe Fagan- win percentage of 54.20
A former Manchester City player, Joe Fagan joined Liverpool as their reserve team coach in 1958 and held that position till 1971 before joining Bill Shankly's first team coaching staff. Fagan was Bob Paisley's second in command before becoming Liverpool's manager in 1983.
Fagan managed the club till 1985, managing the club in 131 matches. Out of these 131 matches, Liverpool won 71 while losing 24. The remaining 36 ended in a draw.
Under Joe Fagan, Liverpool won their first ever treble in the 1983-84 season. This treble consisted of the League, the League Cup and the European Cup.
Fagan left Liverpool in 1985 and announced his retirement from management. He died in 2001 at the age of 80, almost two months before Liverpool won the UEFA Super Cup.
5. Jurgen Klopp
One of the best managers in world football at present, Jurgen Klopp's arrival at Liverpool has been hugely beneficial to the club. In his very first season, Klopp led Liverpool to the Europa League final before leading them to the League Cup final. In 2019, he guided the Reds to the Champions League title.
In 2019-20, Liverpool ended their 30-year drought of winning the league title. In 2022, he completed his trophy cabinet by winning EFL Cup and FA Cup. So far, Klopp has managed 425 matches at Liverpool. Liverpool have won 254 of those matches while losing just 45. The remaining 75 matches have ended in a draw. He is likely to become one of the best Liverpool managers ever!
4. Rafael Benitez- win percentage of 55.43
Rafael Benitez joined Liverpool from Valencia in 2004 following the resignation of Gerard Houllier. Benitez managed 350 matches during his spell at Liverpool. Out of these matches, Liverpool won 194 matches while losing 79. The other 77 matches ended in a draw.
Under Benitez, Liverpool won four trophies, the biggest one of them being the Champions League in 2005. After a poor 2009-10 season where Liverpool ended the Premier League in 7th position, Benitez quit Liverpool.
3. Bob Paisley- win percentage of 57.57
A former Liverpool stalwart, Bob Paisley joined Liverpool in 1974 after Bill Shankly left the club. From 1974 till 1983, Paisley was in charge of 535 matches for Liverpool. Out of these 535 matches, Liverpool 308 matches while losing 96 matches. The other 131 matches ended in a draw.
Liverpool won 20 trophies under Paisley. These included 6 league titles, three European Cup titles, a UEFA Cup and a UEFA Super Cup among others. Only two other managers have won three Champions League titles other than Paisley.
Paisley left Liverpool in 1983 and did not manage another club. He continued to serve Liverpool as the club's director before retiring in 1992. Bob Paisley passed away in 1996 at the age of 77.
2. Sir Kenny Dalglish- win percentage of 58.26
Sir Kenny Dalglish had two managerial spells at Liverpool. He succeeded Joe Fagan in 1985 while he was still playing at the club. Dalglish managed Liverpool till 1991. During this time, Dalglish managed 307 matches. Liverpool won 187 matches while losing 42. The other 78 matches ended in a draw.
During Dalglish's first spell, Liverpool won a total of 10 trophies. These included three League titles.
Dalglish's second spell came in 2011 when he joined Liverpool following the sacking of Roy Hodgson. This spell however, was a disappointing one as Liverpool won only 13 out of the 31 matches Dalglish managed. Dalglish however, managed to guide Liverpool to the 2011-12 League Cup which is till date, the last silverware won by Liverpool. Liverpool eventually sacked Dalglish after the end of the 2011-12 season.
1. William Edward Barclay and John McKenna- win percentage of 60.63
William Edward Barclay and John McKenna were the first managers of Liverpool. The duo managed Liverpool from 1892-1896. During this time, Liverpool played 127 matches, winning 77 while losing 30.
The duo won Liverpool their first trophy, the Lancashire League. They helped Liverpool win the Second Division twice.
Both men left the club in 1896. Neither of Barclay or McKenna managed any other club after leaving Liverpool. Barclay passed away in 1917 while McKenna outlived him by 19 years.
Also, check out –