Best Liverpool strikers of all-time
Liverpool best striker ever? Greatest Liverpool forwards? Who are the best Liverpool strikers of all-time?
There have been many great former Liverpool strikers. So who were the best Liverpool attackers? Players like Kenny Dalglish, Ian Rush and Robbie Fowler probably come to mind. So here we will look at who the best Liverpool strikers of all-time are. Watch & Bet Football Here =>
Best Liverpool strikers of all-time
One of the oldest and most successful clubs in England, Liverpool have had some of the best strikers in the world ply their trade in the club.
Many top strikers have played at Anfield with some leaving an everlasting impression on Liverpool fans. Liverpool had one of the most lethal attacking trios in the world in Mohamed Salah, Sadio Mane and Roberto Firmino. Mane has left the club in summer 2022. Darwin Nunez and Luis Diaz are the latest names.
Before these players, several forwards have come and gone to Liverpool. So, let's take a look at who are the best Liverpool strikers of all-time. Before, that we will show you the Top 10 goal-scorers in Liverpool history.
Best Liverpool strikers of all-time
| # | Player | Total |
| --- | --- | --- |
| 1 | Ian Rush | 346 |
| 2 | Roger Hunt | 285 |
| 3 | Gordon Hodgson | 241 |
| 4 | Billy Liddell | 228 |
| 5 | Steven Gerrard | 186 |
| 6 | Robbie Fowler | 183 |
| 7 | Mohamed Salah | 182 |
| 8 | Kenny Dalglish | 172 |
| 9 | Michael Owen | 158 |
| 10 | Harry Chambers | 151 |
| 11 | Sam Raybould | 130 |
| 12 | Sadio Mane | 120 |
| 13 | Roberto Firmino | 109 |
All of the players in this list have been greats for Liverpool. However, there are a few strikers from this group who will be left out of this list of the best Liverpool strikers ever because there have been a few strikers who haven't had the longevity but have been prolific.
1. Ian Rush: 346 goals for Liverpool
One of the greatest Welsh footballers of all-time, it was at Liverpool that Rush cemented his status as one of the best strikers in England and in Europe.
Rush joined Liverpool from Chester City in 1980 when he was just a teenager. He enjoyed a successful spell for Liverpool from 1980-1986 during which, he won 13 trophies. These included two European Cups and 4 League titles.
The 1983-84 season was Rush's personal best as he scored 32 goals in just 41 matches which was sufficient enough to win the European Golden Shoe.
Rush's performances for Liverpool attracted the attention of Juventus and he joined the club in 1986 for a transfer fee of £3.2 million. This was a British record transfer fee. He did not have a very good stint at Juve and rejoined Liverpool in 1988.
This time, Rush played for Liverpool till 1996. His second spell for Liverpool was not as impressive as the first but he still managed to produce some fine performances and win some silverware. Rush left Liverpool in 1996 and joined Leeds United.
The Welshman left Liverpool with 346 goals in 660 matches, a record which is yet to be bettered. Ian Rush is still fondly remembered by Liverpool fans and there is no doubt that as of now, he is the greatest striker Liverpool ever had.
2. Michael Owen: 158 goals for Liverpool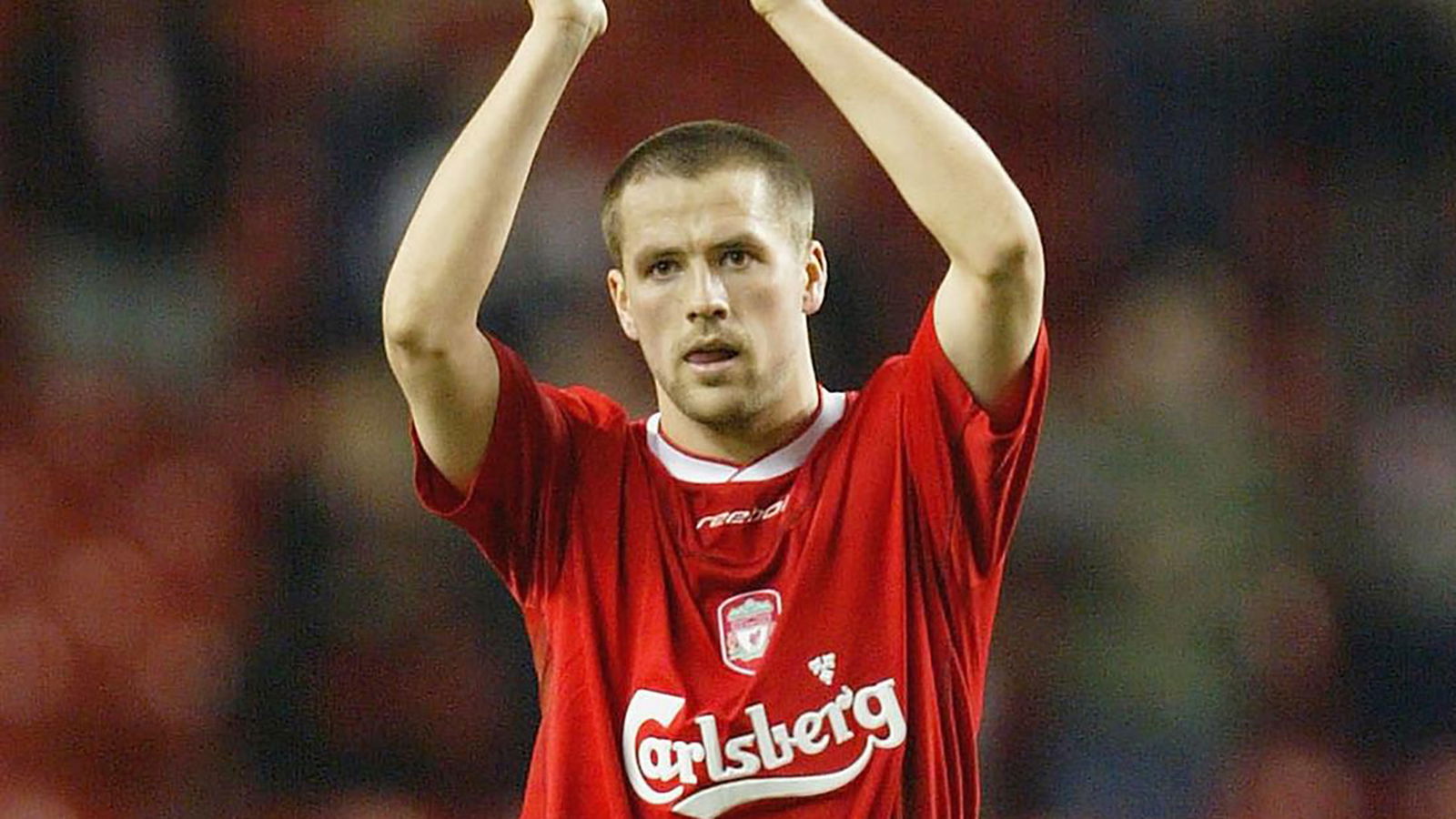 Had it not been for injuries, Michael Owen would have easily had a long international career and a much better club career. Owen may have won the Premier League at Manchester United but he spent the best years of his career at Liverpool.
Michael Owen joined Liverpool's youth team in 1991 when he was only 12 and played there till he joined the senior team in 1996. From 1996-2004, Owen played 297 matches for Liverpool, scoring 158 goals. During his spell at Liverpool, he won 6 trophies that included the UEFA Cup and the UEFA Super Cup.
Owen won the Premier League Golden Boot twice and was named the Premier League Player of the Season for the 1997-98 season. It was also at Liverpool that Owen won the Ballon d'Or in 2001. He remains the last English footballer to have won the award.
He left Liverpool in 2004 and joined Real Madrid. Owen's performances for Liverpool is sufficient enough to prove that as of now, he is one of the greatest Liverpool players ever.
3. Gordon Hodgson: 241 goals for Liverpool
I think it's fair to say that Gordon Hodgson was Liverpool's greatest ever player until the arrival of the likes of Rush, Dalglish and Gerrard.
After spending his youth career in South Africa, Hodgson joined Liverpool in 1925. During his time at Liverpool, Gordon Hodgson was known for his unselfishness. He linked up well with the other players while amassing a lot of goals himself.
Hodgson played at Liverpool till 1936, scoring 241 goals in 377 appearances. He had short stints at Aston Villa and Leeds United before retiring from football. Following his retirement, Hodgson managed Port Vale until his death in 1951. Watch & Bet Football Live =>
4. Robbie Fowler: 183 goals for Liverpool
One of the best Premier League strikers of his time, Robbie Fowler began his career at Liverpool and is best remembered for his time at Anfield. All this despite being an Everton fan.
After spending 9 years in the youth team, he joined the senior team in 1993. Fowler soon became an important player for Liverpool and produced some fine performances for the team.
He helped Liverpool to FA Cup and League Cup glory during his time at the club. Fowler was also a part of the team that won the UEFA Cup and UEFA Super Cup in 2001. He scored a goal in the UEFA Cup final against Alaves.
Fowler left Liverpool in 2001 to join Leeds United. However, he would return to Liverpool in 2006 and play for another year before leaving the club in 2007. Fowler ended his Liverpool career with 183 goals in 369 matches.
5. Mohamed Salah: 182 goals for Liverpool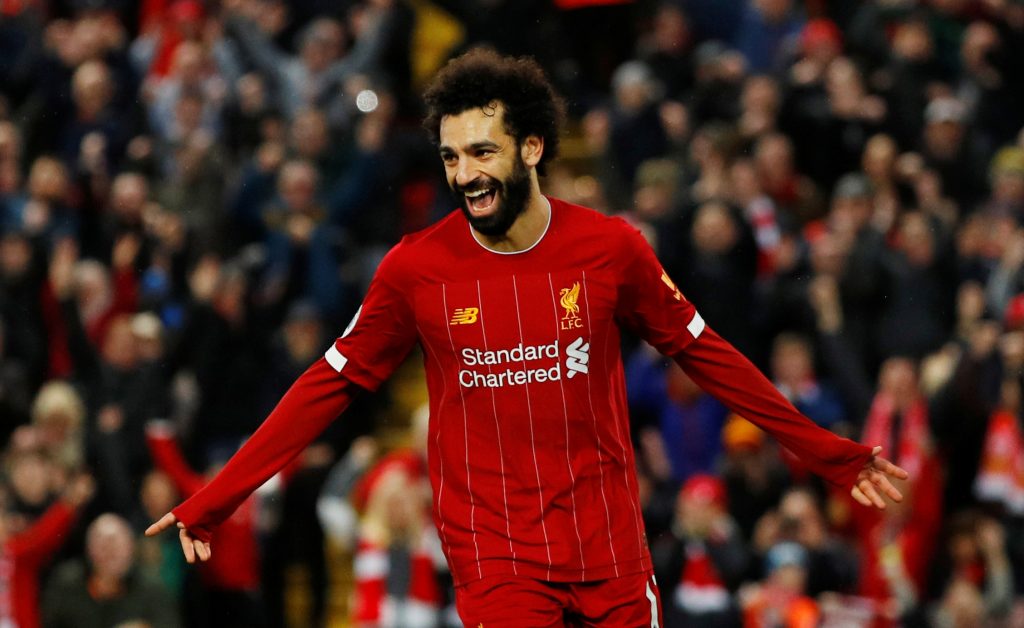 Mohamed Salah may not have been here for long but boy, has he been prolific. The Egyptian forward joined Liverpool from AS Roma in the summer of 2017 for a then-record transfer fee of £36.9 million.
Since then, Salah has become an integral player for Liverpool. He scored 182 goals across all competitions in just 296 appearances. He guided Liverpool to the Champions League title and helped them to win the Premier League after 30 years. He also won EFL Cup and FA Cup in 2022 when Liverpool lost the league title by just one points followed by the loss in UCL final.
Salah who had scored a record 32 Premier League goals for Liverpool as he had won the PFA Player of a Season award and the Golden Boot.
This season, the Egyptian has done well for Jurgen Klopp's side so far, scoring 25 goals in 40 appearances so far. Salah will hope to keep producing solid performances and help Liverpool win the Premier League next season. Provided he stays for another 3-4 years, Salah can easily become Liverpool's all-time top scorer.
6. Luis Suarez: 82 goals for Liverpool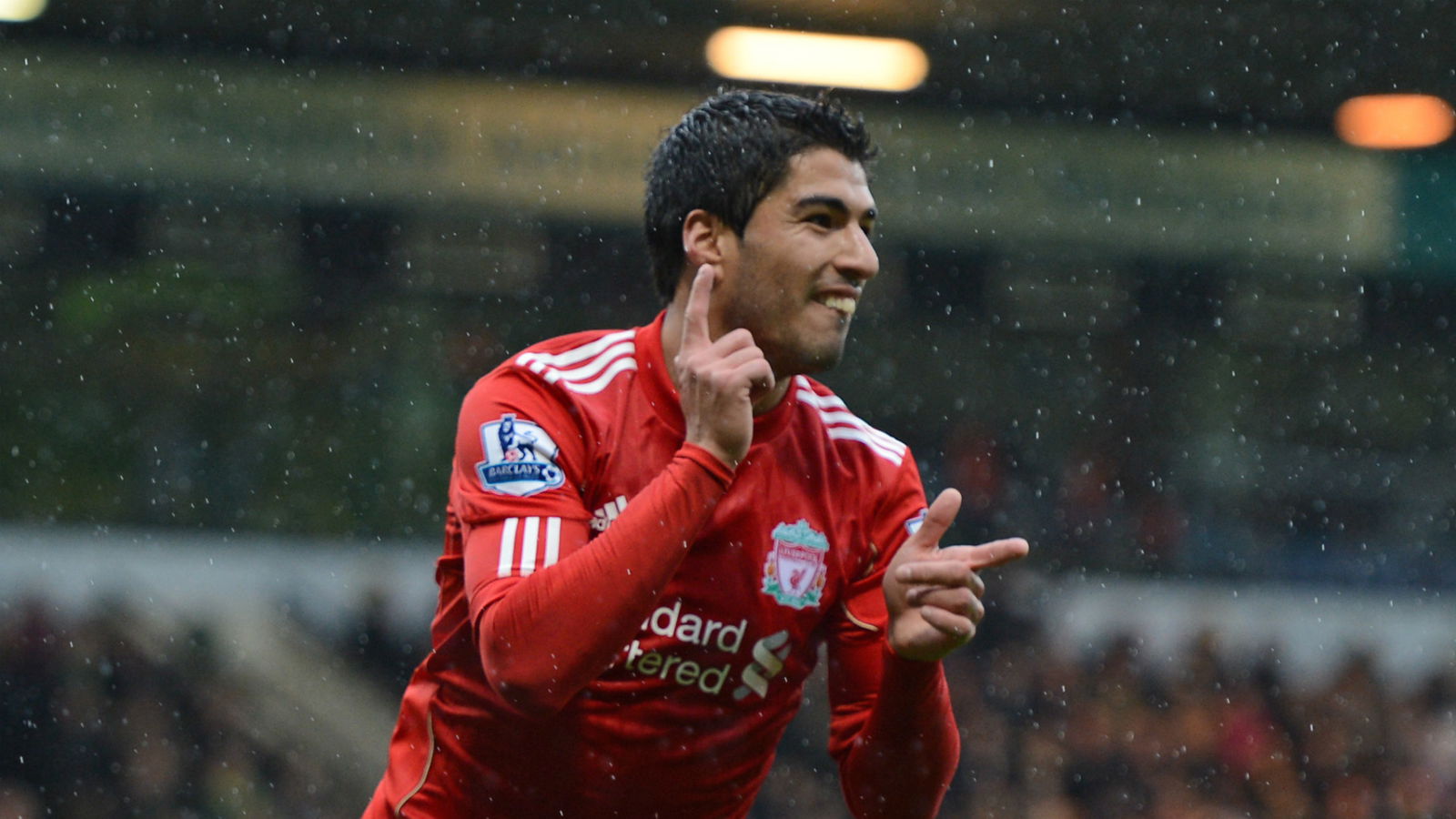 Just months after an infamous biting incident at Ajax, Luis Suarez joined Liverpool in January 2011. Suarez was decent for Liverpool in his first two seasons. During his first full season at Liverpool, he helped the club to the League Cup title which is Liverpool's last title till date.
The 2012-13 season was an impressive season for Suarez as he scored 30 goals in 44 appearances for the Reds. However, his best for Liverpool came in the following season. The Uruguayan striker netted 31 Premier League goals in just 33 matches thus, winning the Premier League Golden Boot. Suarez also won the Premier League Player of the Season award and shared the European Golden Shoe award with Cristiano Ronaldo.
Unfortunately, the 2013-14 season turned out to be Suarez's last season for Liverpool as he left the club to join Barcelona following the World Cup in Brazil.
Nevertheless, with 82 goals in 133 appearances, Suarez surely proved himself to be one of the finest strikers Liverpool ever had.
7. Fernando Torres: 81 goals for Liverpool
One of the greatest Spanish footballers of all-time, Fernando Torres' spell at Liverpool was definitely the most prolific spell of his career.
Torres joined Liverpool from boyhood club Atletico Madrid on a then club-record transfer fee of £26.5 million. Torres' first season at Liverpool saw him scoring 24 Premier League goals in 33 appearances.
Injuries saw Torres make limited appearances for Liverpool but he still scored at a good rate. Torres eventually left Liverpool to join Chelsea in January 2011. He ended his Liverpool career with 81 goals in 142 appearances across all competitions.
Had Fernando Torres been fitter during his time at Liverpool, he would have been much higher on this list.
8. Roger Hunt- Best Liverpool strikers of all-time
One of the finest strikers to have come out of England, Roger Hunt was an integral player for Liverpool during his playing days. He joined Liverpool in 1958 and played at the club till 1969, scoring 286 goals from 492 appearances. He is second among Liverpool's all-time top scorers but has scored more league goals than any other Liverpool player.
During his time at Liverpool, Hunt helped the club to two league titles, a FA Cup title and three Charity Shield titles.
Even though Hunt hasn't received a knighthood as of now, Liverpool fans fondly refer him as 'Sir Roger'.
9. Kenny Dalglish: 172 goals for Liverpool
Many Liverpool fans might be annoyed to see Sir Kenny at 9th on this list. While Dalglish has the longevity, he wasn't as prolific as many other players on this list.
After an impressive spell at Celtic, Dalglish joined Liverpool in 1977. He spent 13 years at the club, scoring 172 goals from 515 appearances. Dalglish helped Liverpool to a plethora of trophies during his time at the club both as a player and a manager. He helped Liverpool to 6 league titles and three European Cups among other accolades.
10. Jack Parkinson- Best Liverpool strikers of all-time
Perhaps Liverpool's best player during the pre-World War 1 era, Jack Parkinson joined Liverpool in 1903 and played at the club till 1914, scoring 130 goals in 220 appearances for the club.
In Parkinson's second season with the club, he scored 21 goals in 23 appearances as Liverpool won the Second Division to return to England's top flight. Due to injury, Parkinson made very limited appearances in the 1905-06 season when Liverpool won the league title.
Parkinson's best season with Liverpool was the 1909-10 season during which, he scored 30 goals in 31 matches. Unfortunately, Liverpool ended second in the league, losing out to Aston Villa. However, Parkinson was the league's top scorer.
He left Liverpool in 1914 and joined Bury where he played four matches before retiring. Parkinson passed away in 1942, aged 59.
Liverpool before leaving the club for Manchester City.
11. Sadio Mane- 120 Goals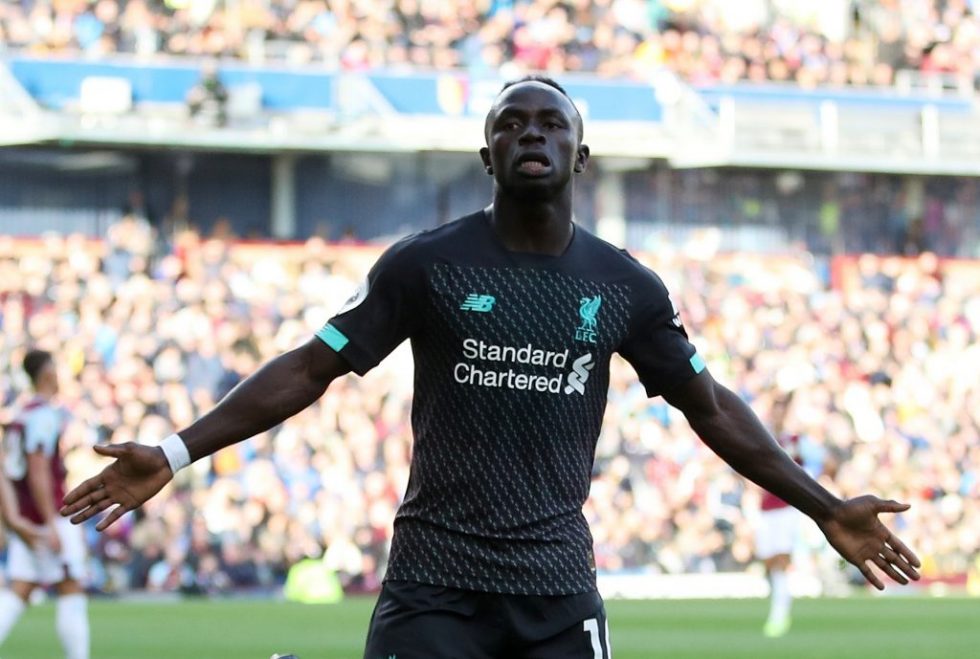 Sadio Mane got the better of Mohamed Salah in the AFCoN final as Senegal triumphed over Egypt on penalties last year.
Liverpool left-back Andy Robertson has explained why his teammate Sadio Mane is one of the best players in the world, recalling his fine display against Norwich City in February.
The forward produced a heroic display in the encounter, scoring the goal that made the difference on their way to clinching the Premier League title after a 30-year-wait.
The forward is humble and lethal and overall a great signing for Liverpool.
Mane has been with Liverpool since the summer of 2016 when he teamed up with the Premier League champions from Southampton.
The forward has been consistent for the Reds and played a key role as the club won the Champions League, Uefa Super Cup and FIFA Club World Cup titles, among others.
The forward has racked up 120 goals for the KOP army and will go down as one of the greatest.
12. Roberto Firmino- 109 Goals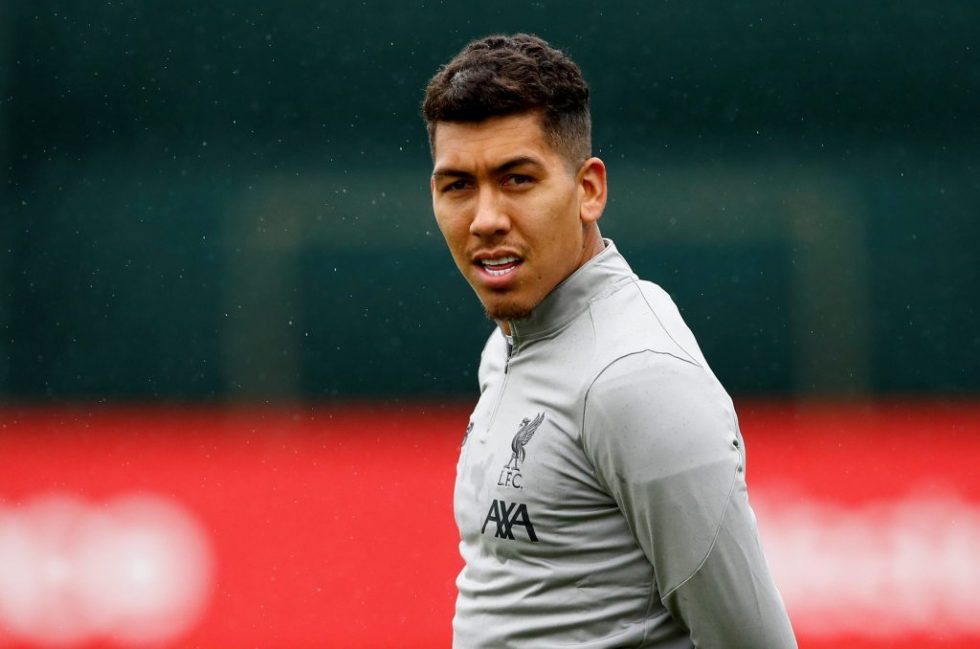 Jürgen Klopp refers to Roberto Firmino as the 'engine' of his squad, and he is a Champions League and Premier League-winning striker who does so much more than simply score goals.
The Brazil international leads Liverpool's line with a formidable and influential combination of industry and inventiveness, thanks to his immense physical gifts that compliment his great footballing ability.
Firmino, together with Sadio Mane and Mohamed Salah, form one of Europe's finest offensive trios, scoring 43 goals in the 2017-18 and 2018-19 seasons to help the Reds reach back-to-back Champions League finals.
The first of those showpieces, against Real Madrid, ended in misery, but Firmino recovered from a muscular injury in time to start against Tottenham Hotspur a year later. Watch & Bet Football Here =>
The attacker has managed to score 109 goals for Liverpool.
That brings us to the end of our list- Best Liverpool strikers of all-time
SEE ALSO: