Top 5 Highest-Paid Liverpool Players 2022
Liverpool are one of the most successful teams in England and also one of the richest clubs in world football. Their players are obviously well paid but Liverpool do not go overboard with their spendings on salaries like Arsenal or Manchester United. Here, we will look at the highest-paid and thus most-valued players at Liverpool. Watch & Bet on Sports =>

Liverpool Players Wages 2022 – Highest-Paid Liverpool Players
| | | | | |
| --- | --- | --- | --- | --- |
| Players | Weekly Wage | Age | Position | Contract |
| Alisson | £150,000 | 28 | GK | 2027 |
| Adrián | £55,000 | 34 | GK | 2022 |
| Caoimhin Kelleher | £15,000 | 21 | GK | 2022 |
| Loris Karius | £25,000 | 28 | GK | 2022 |
| Fabinho | £180,000 | 27 | DEF | 2026 |
| Virgil van Dijk | £220,000 | 30 | DEF | 2025 |
| Ibrahim Konate | £70,000 | 22 | DEF | 2026 |
| Joe Gomez | £75,000 | 24 | DEF | 2024 |
| Andy Robertson | £80,000 | 27 | DEF | 2026 |
| Neco Williams | £25,000 | 19 | DEF | 2025 |
| Joël Matip | £100,000 | 30 | DEF | 2024 |
| Nathaniel Phillips | £30,000 | 24 | DEF | 2025 |
| Trent Alexander-Arnold | £180,000 | 22 | DEF | 2025 |
| Kostas Tsimikas | £60,000 | 25 | DEF | 2025 |
| James Milner | £140,000 | 35 | MID | 2022 |
| Curtis Jones | £7,500 | 20 | MID | 2025 |
| Naby Keita | £120,000 | 26 | MID | 2023 |
| Thiago Alcantara | £200,000 | 30 | MID | 2024 |
| Jordan Henderson | £140,000 | 31 | MID | 2025 |
| Alex Oxlade-Chamberlain | £120,000 | 28 | MID | 2023 |
| Roberto Firmino | £180,000 | 29 | FW | 2023 |
| Mohamed Salah | £200,000 | 29 | FW | 2023 |
| Diogo Jota | £90,000 | 24 | FW | 2025 |
| Sadio Mané | £100,000 | 29 | FW | 2023 |
| Takumi Minamino | £75,000 | 26 | FW | 2024 |
| Divock Origi | £60,000 | 26 | FW | 2022 |
| Harvey Elliott | £7,500 | 18 | FW | 2026 |

Liverpool Players Contracts 2022 – Highest-Paid Liverpool Players
Here are the Liverpool FC Players Contract details and Market Values 2022.
#

Name & Position

Date Of Birth (Age)

Contract Expires

Estimated Value

1
Alisson
Oct 2, 1992 (29)
Jun 30, 2027
£50.00m
Goalkeeper
13
Adrián
Jan 3, 1987 (35)
Jun 30, 2023
£900Th.
Goalkeeper
62
Caoimhin Kelleher
Nov 23, 1998 (23)
Jun 30, 2026
£7.25m
Goalkeeper
4
Virgil van Dijk
Jul 8, 1991 (31)
Jun 30, 2025
£49.50m
Centre-Back
12
Joe Gomez
May 23, 1997 (25)
Jun 30, 2024
£17.00m
Centre-Back
32
Joel Matip
Aug 8, 1991 (30)
Jun 30, 2024
£16.20m
Centre-Back
5
Ibrahim Konate
May 25, 1999 (23)
Jun 30, 2026
£36.50m
Centre-Back
46
Rhys Williams
Feb 3, 2001 (21)
Jun 30, 2026
£4.50m
Centre-Back
47
Nathaniel Phillips
Mar 21, 1997 (25)
Jun 30, 2025
£7.20m
Centre-Back
26
Andrew Robertson
Mar 11, 1994 (28)
Jun 30, 2026
£58.50m
Left-Back
21
Konstantinos Tsimikas
May 12, 1996 (26)
Jun 30, 2025
£14.20m
Left-Back
66
Trent Alexander-Arnold
Oct 7, 1998 (23)
Jun 30, 2025
£72.50m
Right-Back
76
Neco Williams
Apr 13, 2001 (21)
Jun 30, 2025
£7.20m
Right-Back
3
Fabinho
Oct 23, 1993 (28)
Jun 30, 2026
£54.00m
Defensive Midfield
6
Thiago
Apr 11, 1991 (31)
Jun 30, 2024
£18.20m
Central Midfield
8
Naby Keïta
Feb 10, 1995 (27)
Jun 30, 2023
£22.80m
Central Midfield
14
Jordan Henderson
Jun 17, 1990 (32)
Jun 30, 2025
£14.00m
Central Midfield
15
Alex Oxlade-Chamberlain
Aug 15, 1993 (28)
Jun 30, 2023
£14.20m
Central Midfield
17
Curtis Jones
Jan 30, 2001 (21)
Jun 30, 2025
£27.00m
Central Midfield
7
James Milner
Jan 4, 1986 (36)
Jun 30, 2023
£1.70m
Central Midfield
23
Luis Diaz
Jan 13, 1997(25)
Jun 30, 2027
£58.50m
Left Winger
20
Diogo Jota
Dec 4, 1996 (25)
Jun 30, 2025
£54.50m
Left Winger
11
Mohamed Salah
Jun 15, 1992 (30)
Jun 30, 2025
£80.00m
Right Winger
67
Harvey Elliot
Apr 3, 2004 (19)
Jun 30, 2026
£19.50m
Right Winger
9
Roberto Firmino
Oct 2, 1991 (30)
Jun 30, 2023
£28.00m
Centre-Forward
27
Darwin Nunez
Jun 24, 1999 (23)
Jun 30, 2027
£50.80m
Centre-Forward
Top 5 Highest-Paid Liverpool Players
Who are the Highest-Paid Liverpool Players?
5. James Milner- Highest-Paid Liverpool Players

Are you scratching your head a bit? Yeah, I am too since Milner made this list but Sadio Mane apparently didn't or Alisson Becker – the world's second most expensive goalkeeper.
Well, it does make sense when you realise that Milner was signed from Manchester City and is also 35 years old. The Englishman has probably played in every outfield position for the Reds and is also a key member of the 2021/22 squad.
He deserves to bank a healthy paycheque like this one because it probably is going to be his last unless he moves to China like so many European veteran athletes.
4. Jordan Henderson – Highest-Paid Liverpool Players
Jordan Henderson has become Liverpool's very own since he transferred from Sunderland in 2011. From Anfield, he got his break into the England national team and is now the club captain.
Even though he does not reek of world-class talent or consistent displays, he is still an instrumental part of this Liverpool side. There is a reason why Jurgen Klopp has handed Henderson the captain's armband and continues to pick him in the starting XI on a nightly basis.
The 31-year-old's effort and passion for his team cannot be doubted for one second. Players like him is what makes teams eventually get it over the line when chasing trophies – ones with character and a relentless attitude. He currently earns £7,280,000 a year and £140,000 weekly, becoming the third highest-paid Liverpool player!
3. Roberto Firmino – Highest-Paid Liverpool Players
Roberto Firmino earns around €180,000-per-week and he can be offered improved terms if he becomes a target for any other European side. Real Madrid were thought to be interested last summer but they did not pursue the deal for long.
Firmino is a special grade of a player, one who brings the entire attack at Liverpool together. Even though he sports the number nine jersey, he hardly ever operates like one. The Brazilian is an elite dribbler who started his career as an attacking midfielder. Because of his creative abilities, Klopp allows him to drop deep as a false nine and formulate his team's attacks.
Firmino is a huge threat for opposition defenders because his movements are so unpredictable. Sometimes he can be squeezing through two centre-halfs to head in a goal or he can be in midfield, launching a through ball to Salah. Real Madrid were thought to be interested in him last summer and he could go for €80m or even higher.
2. Virgil van Dijk – Highest-Paid Liverpool Players
Virgil van Dijk originally cost Liverpool £75m and is hailed as the world's best defender. Up until the 3-1 win against Arsenal in September 2019, Virgil van Dijk went an incredible 17 months without being dribbled past by an opposition player. It was Nicolas Pepe, who caught the Dutchman on the turn and sped past him to break the record.
Now, that might be a silly statistic but it should give you a glimpse of just how good van Dijk truly is. The man has almost singlehandedly solidified Liverpool's defence after signing for them in January 2018. He should be worth upwards of €100m easy.
At £9,360,000 a year, he ties with teammate Roberto Firmino as the second highest paid Liverpool player.
1. Mohamed Salah – Highest-Paid Liverpool Players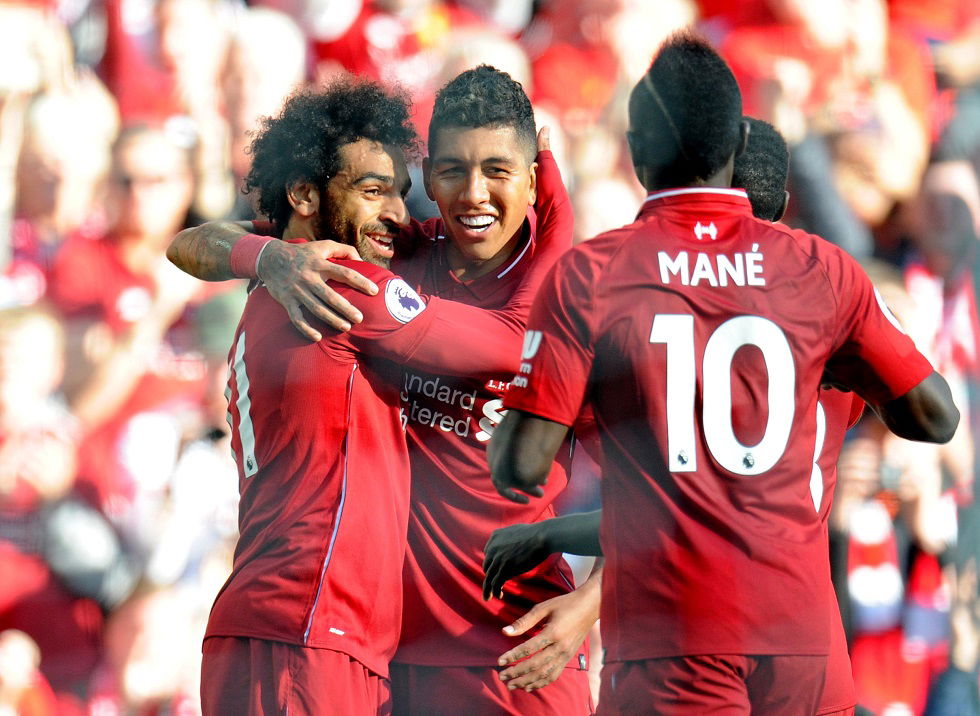 Salah is rightfully the most valued player at Liverpool after winning the FA Cup and Carabao Cup last season. The Egyptian international has also managed to rally an entire country behind the support of the Anfield outfit. He signed a new contract worth £350,000 a week, which definitely makes him the highest-paid Liverpool player as of now!
Other than being one of the most consistent and lethal scorers in football, he has become a sporting icon across the planet. Salah's name is now synonymous with goals and he could easily make his way into any other European outfit (except maybe Barcelona). That would mean he is priceless to Liverpool but for immediate reasons, we can say he is valued at €90m. He is unlikely to be sold and is at the top amongst the highest-paid Liverpool players.

See Also: