Liverpool FC's biggest Wins and Losses
Liverpool FC's biggest wins and losses?  What are Liverpool FC's biggest wins and losses? What are the Liverpool FC biggest wins ever? Liverpool FC biggest margin wins? What are the Liverpool FC biggest losses ever? Liverpool FC losses margin? Founded in 1892, Liverpool has evolved to become one of the most successful teams in England and in Europe.
It's the most successful English club in Europe with 5 Champions League titles. Over the years, Liverpool have registered several wins and defeats against superior, mediocre and inferior opposition. Many of these wins and defeats have been by a high margin.
So without any further ado, we will now take a look at Liverpool FC's biggest wins and losses.
Liverpool FC Biggest Wins
Here are Liverpool's top 5 wins
5. 7-0 vs Manchester United, Tottenham Hotspur, Maribor and Spartak Moscow
Liverpool have won 7-0 against four teams. The first of these instances came on October 2, 1978. Liverpool faced a strong Tottenham side who had the likes of Ardiles and Hodde among others.
Kenny Dalglish opened the scoring after just 8 minutes before adding a second 12 minutes later. Ray Kennedy added a third in the 28th minute before substitute David Johnson scored twice within 10 minutes to make the score 5-0 to Liverpool.
Right-back Phil Neal scored Liverpool's 6th before Terry McDermott made it 7-0 to Liverpool.
The second and third instances both came during last season's Champions League. The first team to be on the receiving end of a 7-0 bashing was Maribor in their own backyard. Goals from Roberto Firmino, Philippe Coutinho and Mohamed Salah made it 3-0 to Liverpool. Salah added a second to make the scores 4-0 before the interval. Firmino added his second to make it 5-0 to Liverpool before two late goals from Alex Oxlade-Chamberlain and Trent Alexander-Arnold saw Liverpool winning 7-0.
Liverpool's final group game was against Spartak Moscow at Anfield. It took just four minutes for Liverpool to open the scoring thanks to Philippe Coutinho who scored a second within 11 minutes. Firmino made it 3-0 before Coutinho completed his hat-trick in the 50th minute. Sadio Mane added two goals before Mohamed Salah scored Liverpool's 7th.
The Red Devils dealt a major blow as archrival Liverpool humiliated Erik ten Hag's men with a 7-0 win at Anfield.
Mo Salah became Liverpool's record Premier League goalscorer with his brace. The Merseysiders went on to wreak havoc as they put on five more goals as United fell on the worst defeat. Roberto Firmino who will depart this summer scored the seventh on one of the great Anfield nights.
4. 8-0 vs Besiktas, 2007
Liverpool began the 2007-08 Champions League in the worst possible fashion. They began the tournament by drawing against Porto before losing to Marseille (at home) and Besiktas.
The Reds' 4th group game was against Besiktas (who beat them in the tournament earlier) at Anfield. They needed to win to stand a chance of qualifying for the knockout stages.
Peter Crouch opened the scoring for Liverpool after just 19 minutes before Yossi Benayoun made the score 2-0 in the 32nd minute. Benayoun scored twice within three minutes to complete his hat-trick and put Liverpool 4-0 up. Benayoun's hat-trick remains the only Champions League hat-trick by an Israeli player.
Steven Gerrard scored Liverpool's 5th in the 69th minute before two goals from Ryan Babel within two minutes made the score 7-0. In the closing stages of the match, Peter Crouch scored his second and Liverpool's 8th. This remains to be Liverpool's largest Champions League win.
Liverpool eventually won their final two group games to qualify for the knockout stages. The Reds reached the semi-finals where they lost to eventual runners-up Chelsea.
3. 9-0 vs Bournemouth, 2022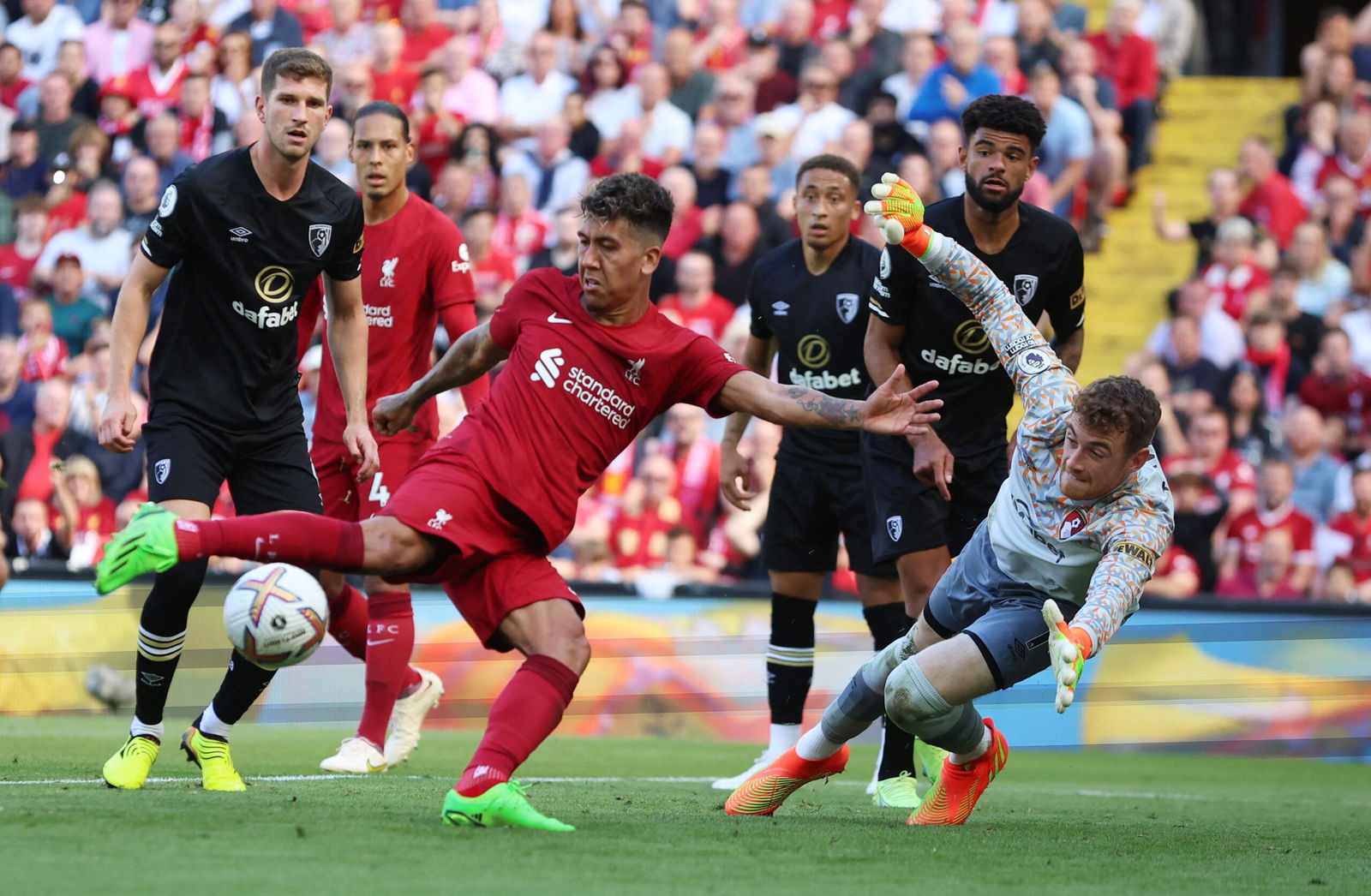 Liverpool began their league campaign well in the 2022/23 season. They kickstarted the Premier League season in a spectacular fashion with a rampant 9-0 win against the Cherries.
It took just 3 minutes for Liverpool to open the scoring thanks to Luis Diaz. Newly promoted Bournemouth had numerous opportunities to equalise but they couldn't capitalize on them as they hit the post and missed a penalty.
Summer signing Fabio Carvalho volleyed in with ten minutes left for number eight and Colombia winger Diaz headed in the ninth to complete an incredible, historic win.
2. 10-0 vs Fulham, 1986
Liverpool began their campaign in the 1986-87 League Cup in the second round. They were up against Fulham who beat Aldershot 5-1 on aggregate in the first round.
The first leg was held at Anfield and Ian Rush put Liverpool ahead after just 8 minutes before John Wark added a second just two minutes later. Ronnie Whelan scored Liverpool's third before Steve McMahon scored their fourth just before half-time.
Wark scored his second to make it 5-0 before McMahon scored his second to put Liverpool 6-0 ahead. McMahon completed his hat-trick to score Liverpool's 7th before Rush scored his second to put Liverpool 8-0 ahead. McMahon scored his 4th goal to put Liverpool 9-0 ahead before Steve Nicol scored Liverpool's 10th to complete the route.
Liverpool won the second leg at Craven Cottage 3-2 to beat Fulham 13-2 on aggregate. They eventually reached the final of the tournament where they lot 2-1 to Arsenal courtesy of a brace from Charlie Nicholas.
1. 11-0 vs Stromgodset
Not many people may have heard the name of Stromgodset but this is the club against whom Liverpool registered their largest win. Liverpool were up against this Norwegian side in the first round of the 1974-75 Cup Winners' Cup.
It took just three minutes for Liverpool to open the scoring thanks to Alec Lindsay's penalty. Phil Boersma scored Liverpool's second. Phil Thompson scored Liverpool's third before Boersma scored his second to put Liverpool 4-0 ahead after just 34 minutes. A 42nd-minute goal by Steve Heighway put Liverpool 5-0 up at half-time.
Peter Cormack scored Liverpool's 6th before Thompson scored his second to put Liverpool 7-0 ahead. Liverpool captain Emlyn Hughes scored their 8th goal before Tommy Smith added a 9th. Goals from Ian Callaghan and Ray Kennedy completed the rout and Liverpool thrashed Stromgodset 11-0. They won the second leg 1-0 to win 12-0 on aggregate and qualify for the second round.
However, Liverpool lost in the second round to eventual runners-up Ferencvaros on away goals.
Liverpool FC Biggest Losses and defeats
Here are Liverpool's top 5 defeats
5. 7-0 vs Sunderland in 1912 and against West Ham in 1930
Liverpool lost 7-0 on two occasions. The first of them came against Sunderland in December, 1912 at Roker Park. Just 17 minutes into the game, Sunderland opened the scoring thanks to Charlie Buchan before Harry Martin doubled it just 6 minutes later.
Jackie Mordue scored Sunderland's third and Buchan scored his second to put Sunderland 4-0 up at half-time. Buchan completed his hat-trick in the 67th minute and scored another two goals to complete a 7-0 rout for Sunderland.
The next instance of Liverpool tasting a 7-0 drubbing came against West Ham at the now-demolished Boleyn Ground in 1930. It took just four minutes for West Ham to open the scoring thanks to Stan Earle and after another three minutes, Vic Watson doubled West Ham's lead. Watson completed his hat-trick to put West Ham 4-0 ahead. Earle scored his second of the match before Wilfred James scored West Ham's 6th. Watson scored his 7th of the match to complete a 7-0 drubbing of Liverpool.
4. 8-1 vs Bolton, 1932 and vs Arsenal, 1934
Liverpool had the misfortune of getting drubbed 8-1 on two occasions. The first came in 1932 against Bolton Wanderers. Bolton thrashed Liverpool 8-1 to register the biggest win in the club's history at the time. The only Liverpool goal in the match came from Scottish winger Danny McRorie.
The second instance when Liverpool received an 8-1 trouncing came just two years later when they faced Arsenal. Arsenal forwards Ray Bowden and Ted Drake both notched up hat-tricks while Cliff Bastin and Jack Crayston bagged a goal each. Alf Hanson scored Liverpool's only goal of the match.
3. 9-2 vs Newcastle, 1934
The 1930s is perhaps a decade no Liverpool fans would like to remember. The Reds faced some of their nightmarish defeats during the decade.
One of these came against Newcastle during the 1933-34 season. Hat-tricks from Jimmy Richardson and Sam Weaver along with goals from Jimmy Boyd, Tommy Lang and Ron Williams saw the Magpies trouncing Liverpool 9-2. Harry Taylor was the only Liverpool player to score a goal as their second goal was an own goal from Newcastle's Alec Betton.
The 9-2 win remains Newcastle's biggest win over Liverpool and will certainly not be surpassed for a long time.
2. 8-0 vs Huddersfield Town, 1934
"What are you babbling about?" This is the kind of reply one would expect if they told someone that Huddersfield Town thrashed Liverpool 8-0. Unbelievable as it may seem, it's true.
Leeds Road is an area in Huddersfield which has a retail park. This retail Park once used to be the home ground of Huddersfield Town for no less than 86 years.
In 1934, Huddersfield Town hosted Liverpool in a League match and thrashed them 8-0. This remains to be one of the club's biggest wins during an era which was a golden one in teh club's history.
1. 9-1 vs Birmingham City, 1954
This defeat came for Liverpool in the Second Division. They were up against Birmingham City at St. Andrew's. Birmingham entered the match at the back of a 7-2 win over Port Vale in their previous home game.
It took just 48 seconds for Birmingham City to open the scoring thanks to Jackie Lane. Two goals from Eddie Brown made it 3-0 to Birmingham City before Trevor Smith pulled one back for Liverpool.
Peter Murphy and Eddie Brown had good chances to extend Birmingham's lead but they were foiled by Liverpool goalie Doug Rudham.
Gordon Astall netted Birmingham's fourth and fifth goal before Peter Murphy scored their 6th. Alex Govan shot successfully from 15 yeards to score Birmingham City's 7th goal before Murphy scored his second of the match to make it 8-1 to Birmingham.
Moments after Murphy's goal, Eddie Brown completed his hat-trick to complete a 9-1 rout of Liverpool for Birmingham. Birmingham eventually went on to win the Second Division and gain promotion while Liverpool finished 11th.
The 9-1 drubbing against Birmingham City remains the biggest defeat in Liverpool's history.
SEE ALSO: