Worst Liverpool managers – Who are they?
Liverpool have been one of the best clubs in English history and Europe in the last century.
The Reds have won multiple European cups and Premier League titles and were the team to reckon with in the mid 1970s and early 1980s. They had a dynamic team and were one of the best teams in the country. Watch & Bet Football Here =>

However, over the years their dominance began to fade away and Liverpool in the middle were once no longer the team they had been. Let us take a look at managers who could never take Liverpool back to the highest level. However, we must keep in mind that Jurgen Klopp currently is doing a brilliant job!
Top Five worst Liverpool managers
Top Five worst Liverpool managers? Who is Liverpool's worst coach ever? Here we will look at the worst ever Liverpool managers. Which managers have performed the worst for Liverpool? Which Liverpool managers flopped? Here we will examine the stats and look at who the Top five worst Liverpool managers are.
Liverpool have had some great managers over the years. Recently, their current manager Jurgen Klopp has just won the Champions League. Kenny Dalglish, Rafa Benitez and so on. But Liverpool have had some bad managers too and Liverpool managers who flopped.
Liverpool's worst coach ever – worst Liverpool managers
So who are the worst Liverpool managers? Who are the Liverpool manager flops? Well we have gone through the stats to find out.
Here we will have all of the worst Liverpool managers according to losses and fewest goals scored and most goals conceded etc.
However, because managers who have lost a lot usually have managed a lot of games for Liverpool, I have decided to look at stats such as least goals scored etc as a more fair reflection.
Note: This list will only include Liverpool managers who have managed at least 30 games for The Reds.
| | | | | | | | |
| --- | --- | --- | --- | --- | --- | --- | --- |
| Managers | From | Until | Matches | Won | Drawn | Lost | Percent |
| Tom Watson | 1896 | 1915 | 742 | 329 | 141 | 272 | 44 |
| Graeme Souness | 1991 | 1994 | 157 | 66 | 45 | 46 | 42 |
| Roy Hodgson | 2010 | 2011 | 31 | 13 | 9 | 9 | 42 |
| Matt McQueen | 1923 | 1928 | 229 | 93 | 60 | 76 | 41 |
| George Kay | 1936 | 1951 | 357 | 142 | 93 | 122 | 40 |
| George Patterson | 1915 | 1919 | 384 | 144 | 87 | 153 | 38 |
| Don Welsh | 1951 | 1956 | 232 | 81 | 58 | 93 | 35 |
5. Roy Hodgson- win percentage of 41.94% – worst Liverpool managers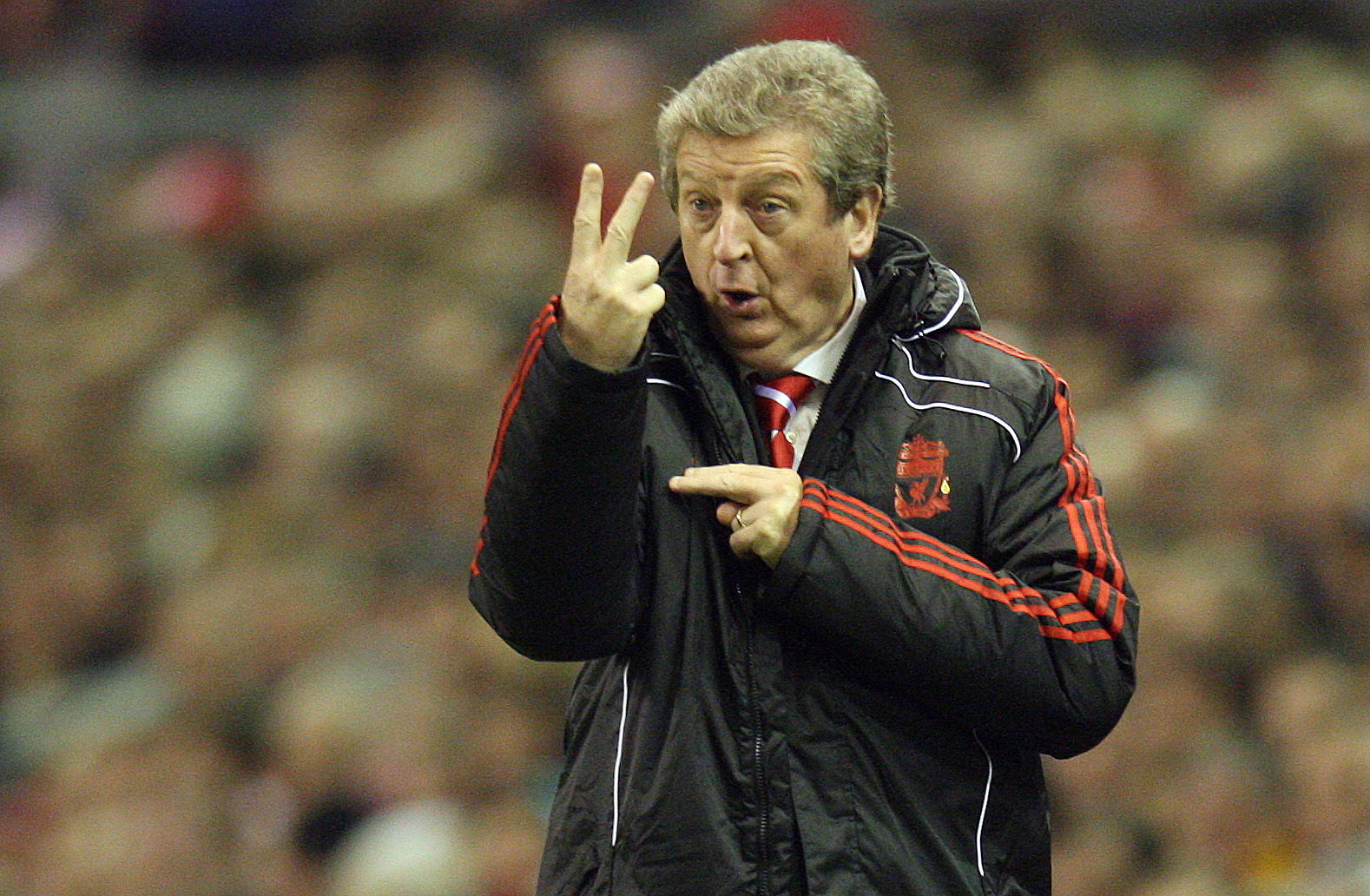 Following the departure of Rafael  Benitez, Liverpool appointed Roy Hodgson as their new manager in 2010. Hodgson guided Fulham to the Europa League final the previous season.
However, Liverpool started very, very poorly under Hodgson. The Reds won only one of their first 8 Premier League matches and were in the relegation zone for three weeks.
Liverpool's results did improve but they were far from finding consistency. Hodgson eventually left the club in January, 2011 after managing 31 games for Liverpool. Liverpool won only 13 matches while drawing and losing 9 matches each.
After Liverpool, Hodgson managed West Bromwich Albion, England and Crystal Palace. The former England manager has retired from football management after leaving EFL Championship club Watford in May 2022. Hodgson became the oldest manager in Premier League history, surpassing Sir Bobby Robson.
4. Matt McQueen- win percentage of 40.61% – worst Liverpool managers

A former Liverpool player, Matt McQueen replaced David Ashworth as Liverpool manager in 1923 at a time when they were on the brink of winning the First Division. Liverpool eventually won the first division but this would be the only silverware McQueen would lay his hands on.
In the full seasons that McQueen managed, the best Liverpool could do was finish 4th in the 1924-25 season. McQueen managed Liverpool till 1928 and was in-charge for 229 matches. Liverpool won only 93 matches while losing 76 matches. The remaining 60 ended in a draw.
Matt McQueen left Liverpool in 1928 and did not manage another club due to health issues. He passed away in 1944 at the age of 81. Despite having such a low win percentage, McQueen was inducted in the Liverpool Hall of Fame.
3. George Kay- win percentage of 39.78% – worst Liverpool managers

After having managerial spells at Luton Town and Southampton, George Kay became Liverpool manager in 1936. He managed the club till 1951 but due to World War 2, he was in-charge of only 357 games.
Out of these 357 games, Liverpool won only 142 while losing 122. The remaining 93 matches ended in a draw. Kay's biggest achievement at Liverpool was to guide them to the 1946-47 First Division. He also guided Liverpool in the FA Cup final in the 1949-50 season. This was Liverpool's first FA Cup final in 36 years.
Kay left Liverpool in 1951 and died three years later, in 1954.
2. George Patterson- win percentage of 37.50 – worst Liverpool managers
George Patterson joined Liverpool as an assistant to Tom Watson in 1908. Following Watson's departure in 1915, Patterson became Liverpool's manager. However, he did not have to manage much because of World War 1.
He left Liverpool in 1919 after staying only 18 games in-charge. Patterson joined Liverpool for a second managerial stint almost a decade later, in 1928. This time, he managed the club till 1936. Patterson's managerial spells at Liverpool were far from successful because the club didn't win anything.
In the 384 matches under Patterson, Liverpool won 144 while losing 153. The other 87 matches ended in a draw. Patterson left Liverpool in 1936 and became a club secretary. He passed away in 1955.
1. Don Welsh- win percentage of 34.91 – worst Liverpool managers
Bill Shankly helped Liverpool rise after a declination phase. Don Welsh was largely responsible for this declination. Welsh joined Liverpool in 1951 following the departure of George Kay.
Liverpool struggled in the first Division during Welsh's first two seasons and in his third season, Liverpool faced relegation to Division 2 after ending the league in rock-bottom.
He was eventually sacked in 1956 after managing 232 matches for Liverpool. Out of these matches, Liverpool won only 81 while losing 93. The remaining 58 matches ended in a draw. With a win percentage of 34.91%, Don Welsh is Liverpool's worst ever manager based on win percentage.
After Liverpool, Welsh managed Bournemouth and Wycombe Wanderers. He passed away in 1990.

See also…