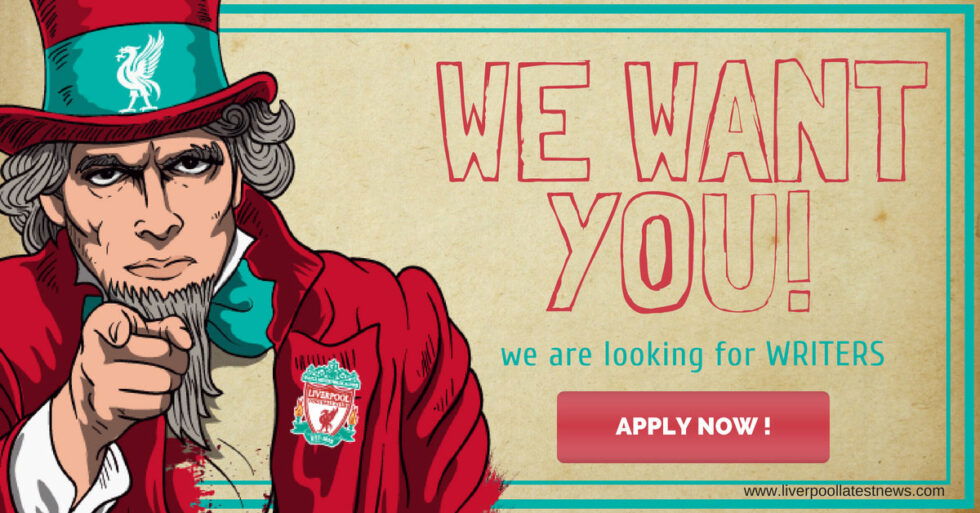 Write for Liverpool Latest News
Are you aspiring to become a journalist or to sit at your computer, researching about facts, statistics and information regarding Liverpool FC and the world of football and sharing your footballing knowledge? If that's the case, then we at Liverpool Latest News can fulfill this aspiration of yours.
Liverpool Latest News is persistently evolving and we are willing to take the next step by recruiting some new writers.
Submit your articles to us
Liverpool FC Latest News offers aspiring writers a unique opportunity to both develop as journalists and get their work published in one of the biggest football websites.
Would you like to have your content published on Liverpool FC Latest News.com? We provide blog and website owners (as well as up-and-coming journalists) the chance to write articles and publish them on our fast growing website.
By publishing your articles on our website you will get your articles viewed by millions of football fans worldwide which will increase your own brand exposure and personal profile. This will also strengthen your career in becoming a sports journalist.
Our Facebook page is the biggest non-official Facebook page in the world. Just take a look here – https://www.facebook.com/LFCNEWS1
What Liverpool Latest News are looking for
We are interested in anyone who wants to become a part of our team.  Here at the Liverpool Latest News we are regularly looking for new talented and passionate writers. So if you think you have what it takes to be part of the team, then you have come to the right place.
Liverpool Latest News is a known reputable brand and a strong sports resource covering mainly timely news and events, and interesting facts about the top European soccer leagues.  Our coverage is primarily Liverpool FC, Premier League, Serie A, La Liga, Bundesliga and Ligue 1. We are also interested in other major events that go around in the world of football.

We are looking for writers who can produce in depth premium content regarding Liverpool FC.
Sounds interesting?
To apply and to become a writer at Liverpool Latest News, fill in the form below, or send a message to our Facebook page.

We will also need a sample article written by you which can give us an idea of your knowledge about Liverpool and of your writing skills. Submit your application today using the form below! Fill out the form below so we can take it from there.
Do you know someone who is right for Liverpool Latest News?
Please send this to your friends, if you think they would be the right person for the Liverpool Latest News!
Apply here!
So if you think you have the talent to pen an article you have come to the right place. Just fill in the form below and we will take it from there.
Error: Contact form not found.
If you're interested just contact us and tell us how you wish to contribute.
Contributor Program Facts
Two very important facts about our contributor program:
Will I get credit as the author?
YES
Paid job opportunities will occur and the most dedicated and passionate writers will get the paid job opportunities first.
Feedback to the Liverpool Latest News
We welcome your questions and ideas regarding our site and our work too. Please send your questions and comments to our Facebook page or use our contact form.